Working with new fabric can be a beautiful experience, where all feels right with the world, and suddenly I see myself opening a clothing line with a store front and French runway shows (ok, that never happens)…or it can be a horrendous debacle that makes me want to swear off sewing forever (this happens a lot).
And the latter is what happened with the knit fabric I bought last weekend. Quick sewing fact: there are woven fabrics (like dress shirts are made out of) and there are knit fabrics (like t-shirt material). Up until this point I have only ever used woven material. Cotton woven is pretty easy to work with, but it doesn't have the drape, hang, or stretch of knit fabric. The stretch aspect is why I'd never attempted knit fabric cause I had no clue how to work with stretchy stuff.
Turns out that's not the hard part. Actually sewing the material is fine. It was cutting it out that drove me crazy. T-shirt material sticks to itself. Trying to cut out a large skirt is very hard when it won't stay where I want it. I spent all last Saturday trying to get the fabric laid out straight, and gave up without getting anything cut. Then I played Mario Kart Wii and cussed a blue streak at Princess Peach and many other beloved Nintendo characters for making me lose. After that, Ben cut me off and we watched tv.
Sunday I attempted again. Finally figured if I cut the fabric into smaller pieces (I had been trying to work with 2.5 yards at one time), I could manage it better. That actually worked, but then I decided to not worry about a pattern this time around and just play with the material and see if I could even sew it correctly.
And like I said, turns out it's not that hard to sew. I'm making a shirt, and it will actually probably come out alright. And the really fun part is I can put my own embellishments on it! No plain ol' t-shirt for me.
I read several random peoples' sewing blogs to keep me inspired and interested (linked on the left if any other crafters are interested). One cool thing that many of these bloggers do is create high-end looks for less. Find a t-shirt at J. Crew or Anthropologie? Don't want to pay the exorbitant amount for it? Make it yourself for a fraction of the cost. It's genius. And will fill up the world with stylish, money savvy people.
Anywho, hopefully I'll have my shirt finished and pictures this weekend. Below are some ideas I've been mulling over to come up with my own design.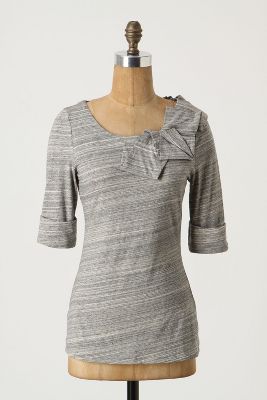 Anthropologie
Modcloth
Modcloth
I'm really diggin pleats right now, so we shall see what turns out…